After an early morning arrival in Niue (June 21, 2010) I ended up putting in a very full Monday to Friday work week looking after the priority boat jobs that needed attending to after the fast and furious sail up here from Whangarei NZ and this was just much too dangerously close to resembling a regular work week so i decided to take the weekend off to explore the wonders of this small island country.  As it turned out I needed to get back to work on LTY to get a rest as the weekend was non stop hiking up and down coral trails, trekking through dense jungle growth, climbing up and down caves and snorkeling in pools and coastal caves. But more on that in a separate posting to follow.
NIUE INFO:
Niue (see this link for a good overview and map) is referred to as the largest uplifted atoll in Polynesia and is about 260 square kilometers in area and about 65km in circumference. 
Niue is absolutely gravid with fascinating facts and places to explore.  For example, Philip and I have been discussing and pondering just how this island formed and how to account for the very unique "ground", which consists of nothing but broken up pieces of very sharp and rough old coral. Some of these pieces are huge boulders, some are the actual island base itself that makes up the whole coast and some are smaller sizes down to fist size or so.  This coral is literally ALL there is everywhere; every trail, every cliff, every jungle floor and every part of the coast.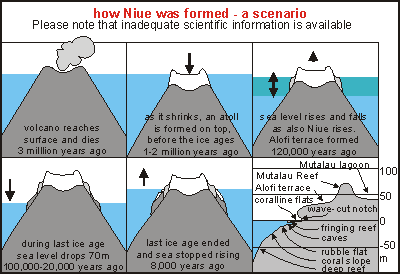 If you are interested in more, I was able to find some of the answers on a fascinating and extremely informative web site at http://www.seafriends.org.nz/niue/geo.htm which included this graphic of the most likely scenario.  This site is extremely informative and I'm still in the process of learning from it.  Did you know for example that the surface of the ocean is far from flat or even and has very large dips up to 10m depending on what is below it?  This is apparently caused by the difference in the gravitational pull between the water and the earth in different locations.  From the site here's what that means:
One of Seasat's instruments was a radar altimeter, able to measure the ocean's surface from an altitude about 500 miles up, with a precision of 5-10 cm. Surprisingly, the surface of the ocean proved to be curving and dipping, often by as much as 10m up and down (for 5000m bottom relief). When mapped, the dips corresponded to dips in the sea floor and the bumps to sea mounts and ridges. The precision of the measurements allowed computers to make precise and detailed maps of the entire world's ocean floors.
The reason these dips and bumps occur in the ocean's floor, without ships ever being able to notice these, comes from the force with which two substance attract one another - the heavier earth's crust attracting the lighter and fluid water. Thus undersea mountains pull water towards them, resulting in a surface bump, whereas ocean trenches have the opposite effect.
  Who knew? And how cool is it that "we" can measure and map, in part, the ocean floor by measuring these dips and changes in level of the ocean by satellite.  NOW do you understand why I called my boat Learnativity and how seriously fun it is to be learning a living?!!